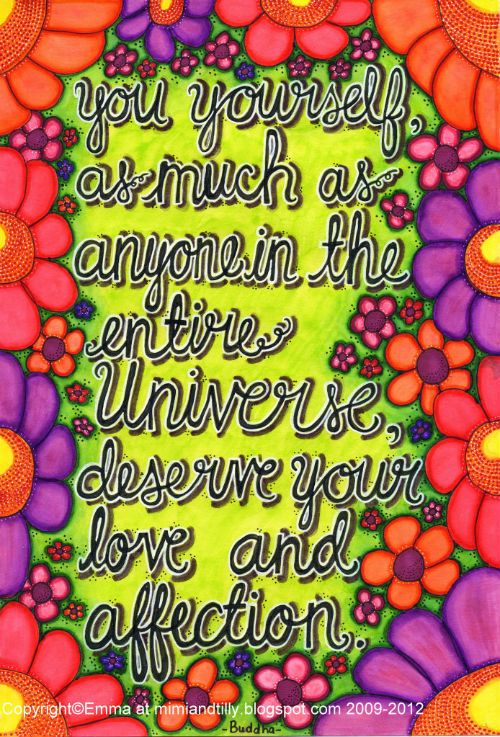 I've been painting again this week. Turning my handwriting into lettering. It's been fun.

I don't know about you, but I often forget to be gentle with myself. I came across these words, attributed to Buddha, while I was doing my reiki training a good few years ago, "You yourself, as much as anyone in the entire universe, deserve your love and affection.".
I was brought up to be kind to other people, and to help where I could. It never really dawned on me that being kind and loving to myself wasn't selfish, until I got ill. Since being ill, I've come to understand that being kind and gentle with myself is just as important, if not more so, than being kind and gentle with other people. If I push myself too hard, don't listen to my body, don't take time to do the things that nourish me, I don't have anything to give to the people I love because I'm exhausted, depleted, impatient, and not always too easy to be around. If I give myself love and affection, I have much more to give to other people.
I love these words. They kind of give me permission to nurture myself.
What are you doing today to show yourself love and affection?
I'm going to get cosy with my cat Ernie, who is hovering around my computer desk, and curl up with him and read a library book. Lovely jubbly.
♥
I've also decided, after several weeks of thinking about it, to let go of my weekly series "Favourite Thing On A Friday". I'll tell you for why... In recent months, I've not always felt well enough to post each Friday, and have found the Friday deadline feeling a lot like pressure, rather than something fun. I've also had a number of weeks where I've not been able to post at all on a Friday, and that hasn't felt comfortable for me. If anyone would like to take over hosting "FavouriteThing On A Friday", let me know, then I could join in when I'm able. Otherwise, I will continue to post my favourite thing of the week each week, but not on a specific day. Thanks for your understanding. It's my way of showing myself a bit of love and affection, by not putting myself under pressure.
I hope you're having a great Saturday wherever you are.
Sending glitter and smiles,