Have you ever had one of those days/weeks/months where it feels like nothing seems to go smoothly? The harder you try, the more out of your control things feel? And suddenly, you're feeling overwhelmed, upset, and frustrated?
I'm currently experiencing one of those right now. I've been feeling particularly s***e (that's a technical medical term) over the past wee while. More than the usual pain, nausea, headaches, and so very, very little energy. And at the same time, a situation has arisen where, for the past week I've been trying to deal with some "life admin" that has required my attention. It's also required me asking for some other people, as part of an organisation on the end of a telephone, to help me by dealing with stuff at their end. It is proving to be one of those situations where you feel like poking yourself in the eye and then hitting yourself with a spade would be a lot less painful...
This morning, I made further attempts to resolve the situation and found myself, yet again, feeling blocked and unheard by the people I have been asking to hear me. The little energy I have today, diverted to a situation where it felt my energy was being wasted rather than put to good use. Absorbed and dismissed by someone who doesn't understand how precious my energy is.
And I started to feel frustrated, upset, angry and completely overwhelmed.
I sat down and listened to the rain on the window. I took some deep breaths. I contemplated getting the spade out of the shed.
And then I had some interesting thoughts...
What if I didn't get upset? What if I put my energy where I wanted it to go and thought about all the things in my life that are supporting me, running smoothly, helping me on my way? What if I stopped fighting how things are and let go of all my upset?
So, instead of chucking fuel onto my fire of frustration, I sat and wrote a short message of love and encouragement to someone I know needed it. And then I made a list in my head of all the things in my life that are amazing, supportive and cheering me on. Then I had a cup of tea (tea really does have magical powers!), and I took another deep breath and breathed out all the junk.
Sometimes, things just don't go the way I hope, or want them to go. Sometimes people just don't understand where I'm coming from. Sometimes I need to use the little energy I have on things that don't make me smile or feel glittery, but I need to do it anyway. Sometimes I can find myself fighting life before I realise what I'm doing.
And even with all that going on, life is still amazing, and I am so very grateful for all of it.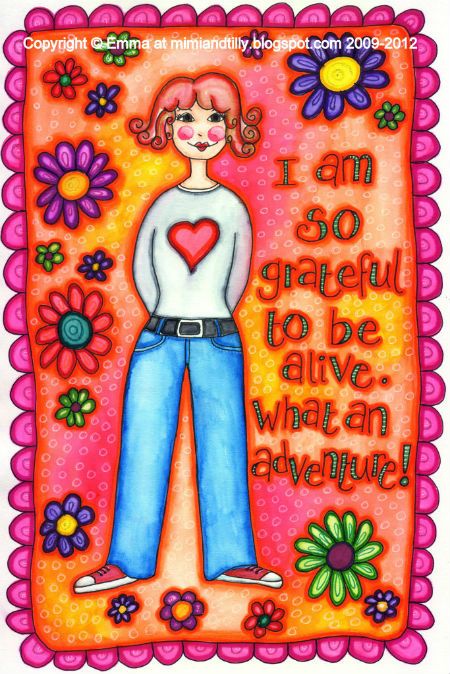 ♥

Sending love and smiles your way.

♥