Last week I posted about
restyling my locks
, and, frankly, it did me the power of good as I received so many beautiful compliments about how lovely my barnet was looking. Thank you.
Then this week I had to make some phone calls that involved me sitting on hold listening to music. The piece they were playing was very loud and, to be honest, hurt my ears. I felt like I was being shouted at by musical notes. A tad aurally abused, if you will.
I assume that music is played while a person is sat on hold on the phone so that they are soothed and mollified by said music. I felt neither soothed nor mollified. I'm not generally an aggressive or impatient person. If anything, I'd say I was a bit of a sloth when it comes to getting irritated by the stuff of day-to-day living. But I did find that I had a strong urge to poke myself in both eye balls just to distract me from the electronic dirge that was assaulting my ear drums.
I attempted to resolve this problem by putting the phone receiver on my desk so that it was a little bit away from my head. This didn't really work. Leaning over my desk to put my ear near the receiver, to make sure I could hear if someone picked up my call, wasn't the most comfortable position to sit in. I haven't got an excessively enormous head, but, there is a lot of stuff stored in there and, honestly, it's heavy.
Then I came across this...
How amazing would it be for general woman and mankind if we were given compliments while we sat on hold on the phone? How much more amenable would the conversations be, if the person left sitting on hold for ten minutes was given a litany of reasons why they were the cat's whiskers? Talk about oiling the wheels of general happiness and I'm-having-a-good-day-ness.
In my mind it would sound something like this...
"I'm sorry but all our customer relations staff are taking other calls at the moment. Your custom is important to us. We will take your call as fast as we possibly can... Do you know how hot-to-trot you are? Yowza, that outfit you've put together today is bang on trend. Your bottom is the perfect peachy size and most certainly does not look big in your skinny jeans. And, what's more, you are as beautiful on the inside as you are on the outside. And funny. That joke you told your friends last week made me laugh so hard, I snorted. Don't get me started on your writing skills. Your words... I'm getting a little choked up saying this... Your words... Move me. Thank you for supporting our business. Frankly, we couldn't do it without you."
Pretty uplifting huh? If a little invasive.
So, my Favourite Thing On A Friday this week is receiving compliments. Thank you for the beautiful compliments you leave in your comments. They make a huge difference to my days.
If you fancy joining in with Favourite Thing On A Friday, just link up below and I'll be over in a jiffy to pay you a huge compliment. Just because.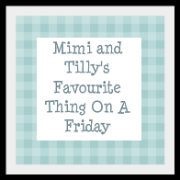 What's your Favourite Thing On A Friday this week? And what's the best compliment you've ever been paid?