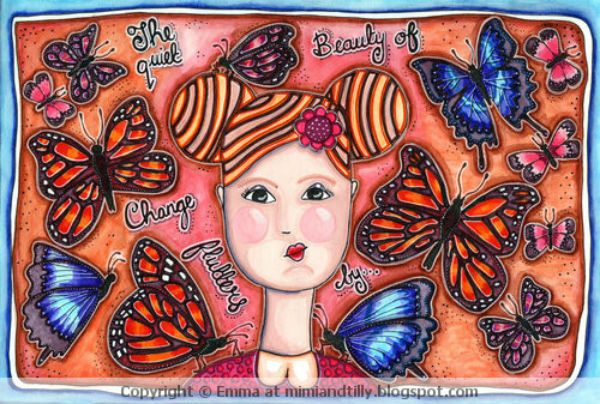 Butterflies have always represented transformation for me. Something fragile, beautiful, and very powerful. I went through a stage in my life where I sought out lots of change. I found it exciting. Then, I went through a stage of life where change felt so unsettling, and became quite frightening for me. Now, I believe that all change is for the better. It is simply life unfolding. And there is huge power in the quiet way it moves. I think there's something very beautiful about things being transformed (I've seen what a trowel full of
make-up can do for me. From "aaaargh" to "grrrr" in under five minutes. That's a transformation I'm very willing to take on board.). How do you feel about change?
I really enjoyed painting this page in my art journal. And when I'd finished, I found three chrysalises (I feel like I'm lisping saying that) on the path in my garden... So, I put them in a jam jar (no lid) and they are sitting in the dark, under a chair in my conservatory. I'm keeping an eye on them and hoping they're doing fine.