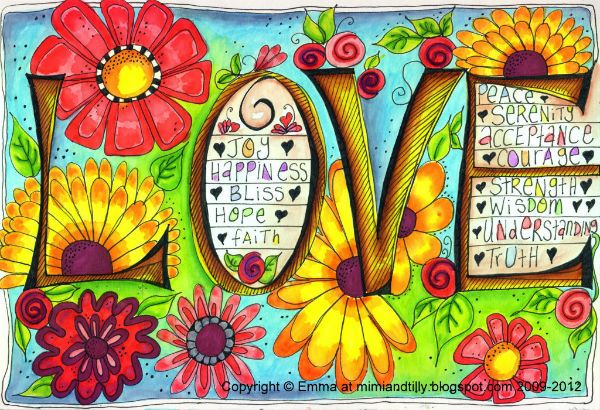 In May 1996 I was having a browse around a second-hand book store on the fifth floor of an odd little building in Tokyo. This book store only sold books written in English, and as an avid reader, I spent a lot of time there. On this particular day, my attention was caught by the title of a book " A Return to Love". I thought it was a beautiful title, so decided to buy the book. Best. Decision. Ever.
The book was written by
Marianne Williamson
. Over the years, I have read it many times. In the book Marianne explores the concept of experiencing life from a place of love or from a place of fear, and how we flip-flop between the two. As I go through my days, I find myself asking "are you coming from love or fear here, Em?" And it's amazing how often the answer is " Oh, definitely cacking myself right now, Em." (Yes, I do talk to myself... I've been known to make myself cry laughing. Not usually on purpose though.)
Thinking about things in this way has simplified life for me. Am I feeling love or fear? Am I being loving or fearful? Are they feeling love or fear right now? How can I be loving to myself and other people in this situation, rather than fill my big girl pants?
Yep, I love the word "love". The way I understand life, when it comes down to it, I can look at myself and the world, and the things that life brings my way, from a place of love or from a place of fear. I know which one feels better. It's not easy to do, but once I know I'm coming from a place of being afraid, I can do what I need to do to move into coming from a place of love. And, so far, my experience tells me, that coming from a place of love for myself, and the people around me works out so much better in the end.
Yesterday I was really tired. So, I decided to be loving to myself and you, by not inflicting a rubbish blog post on you and me. (All I had written by 5pm was "Hello". It seemed a bit short.) I decided to rest up, and write my post today instead. I came from a place of love. So my
Favourite Thing On a Friday
on Saturday this week, is living life from a place of love and not fear. It feels good.
Little Bliss List #9
Spending quiet time alone.

I had a good think. It really cleared the tubes.

My cat Ernie sitting on my head when I was in bed. He decided he wanted some fussing and wouldn't stop head bonking my head. It made me laugh.
My lovely friend Ange gave me some beautiful curtains. They look gorgeous in my front room where I'm typing now. Thank you Ange.

(I'm so thankful for my lovely friends and family and everything they do to love me.)
Getting on the scales for the first time in a very long time and seeing that I hadn't actually managed to double my body weight even though I had ploughed my way through more chocolate than you could waggle a stick at over Easter.
Allowing myself to feel what I was feeling, and not fighting it, being disappointed or telling myself I will always feel this way. I curled up in my conservatory on the sofa with Ernie my cat and watched the birds with him. Admittedly, I was a touch less interested in eating them than he was, but it was still a beautiful time....
P.S. My painting today was inspired by the work of
Joanne Sharpe
. She is amazing.