I've had a bit of a segue over the past week or two. Showing pages from my art journal. To redress the balance, I'd like to share with you a new design I put together recently. My sister is now the delighted owner of these silver and peruvian opal drop earrings.
Her reaction when she unwrapped them is my
Favourite Thing On A Friday
this week. "Ooh, wow, gorgeous!" Followed by her putting them straight on. You don't get much more positive feedback than that. Thanks sis. I'm glad you love them.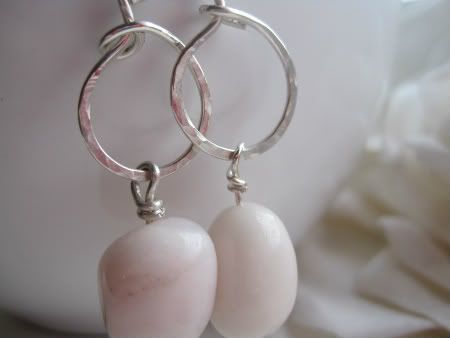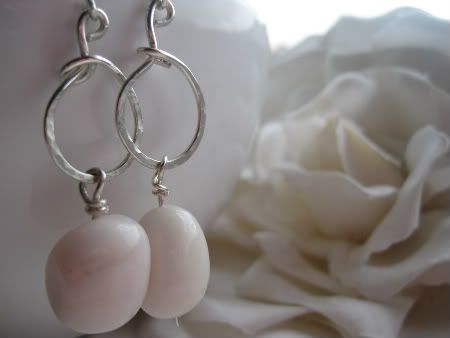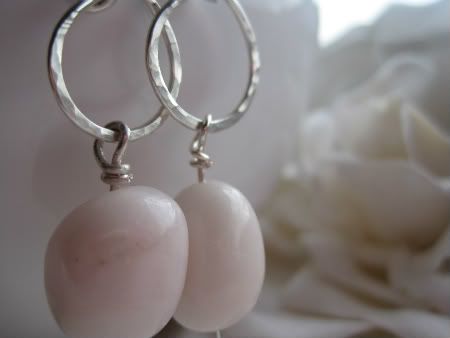 Not too shabby. Even if I do say so myself. Have you had a great reaction to a present you've made for someone?
Little Bliss List # 8
My friend coming to cut back all the plants in my garden. It really means a lot that she offered her help in this way. Thank you.
Crying laughing with my friend.
Getting a hug from my nephews. They are taller than me now. I love them both so much. Where did that time go?
Showing my mum and dad my art journal and having them tell me how much they love my paintings. I'm 43, and it still feels great to know your mum and dad think you're fab!
Getting an enormous chocolate bunny for Easter from my sister and her family. Not being able to wait until Easter Sunday to eat him. Biting into the ears and feeling a bit like I was committing Easter Bunny-ocide. Sincerely apologising to the chocolate bunny for eating him. Telling him how ruddy, bloody tasty he was.
Seeing a sparrow land on the garden lawn with a mouth full of small downy feathers. Watching him fly into the eaves of my house to, literally, feather his nest.
How has your week been? I'm linking up with
Liv Lane
again. If you fancy linking up with Favourite Thing on a Friday, just enter your blog post into the link tool below and we'll be over to say hello.
♥