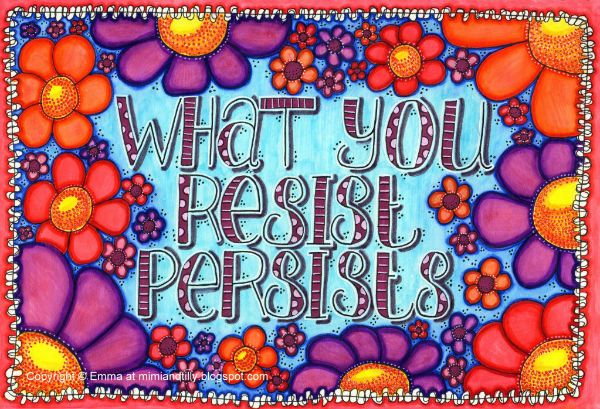 I've been resisting a lot of things recently. Do you ever get in that mood? Where you dig your heels in? Stick your chin out and get as stubborn as you can possibly get without actually standing in the middle of the carpet and having a hissy fit? (Who am I kidding? I love standing in the middle of my carpet and having a hissy fit.)
Well, I do. And that's how I've been feeling lately.
When I was little, I can remember being really stubborn. If I wanted to learn how to do something, I'd just keep at it till I'd done it. My dad recently reminded me of something I did when I was about 6. He had been out on the street with my sister for a while, teaching her how to ride her bike without stabilisers. I decided to join them. My sister was taking a break from her bike. So I picked it up. Got on it and rode off. My dad said he could see my concentration as I peddled off up the street. I had never ridden without stabilisers before, but was determined that I'd just keep going till I fell off.
That's kind of been my philosophy for life...
In Japan, they call this way of being the "ganbatte" way (pronounced "ganbattay"). Ganbatte, in Japanese, means something like try hard, keep fighting, do your best, have courage, (although there's no literal translation into English). I think that's been my nature since I was little. It's how I mastered pointe work during ballet lessons even though my feet bled, and how I travelled round the world alone, even though I was often filling my big girl pants (that's a technical term), how I achieved most of the wonderful and exciting things I have achieved in my life.
And sometimes when I'm trying to come over all zen, enjoy the small things in life, get in the "flow", feel peaceful... I come over all agitated, stubborn and restless. Instead of feeling the "peace of the moment", I want to run round butt naked in a big floppy hat, shouting rude words, cavorting with a bottle of gin. I can't help it. Resisting the crap out of stuff makes me smile.
What's wrong with having a good old foot stamp every once in a while, at the same time inventing new swear words? I love to swear. I know it's not big or clever but it makes me laugh. (A recent addition to my swearing thesaurus? Funt. I'll leave you to figure it out.) I also love being sarcastic, making rude noises, and snorting when I laugh.
So, while I've been spending the past couple of weeks trying to get into a peaceful place so that I can get down to some art and write something here on my blog, I've been resisting being the sweary, uncouth, snorty, stubborn person I can also be. And it just hasn't felt right. The more I've resisted swearing, the more I've come over all Gordon Ramsey...
And then I remembered... What you resist persists. So I sat down and painted today's picture. While swearing. And enjoying a lovely glug of gin.
Problem solved.
In a bid to stop resisting, I have a confession to make. I enjoy the small things in life. I enjoy being peaceful. Spending time in nature. Being quiet.
And I also love being stubborn, feisty. Having a good rant. Slurping gin. And inventing new swear words that really roll round the tongue.
How about you?
Thank you and good night...