I met my friend, Claire, at university in 1987. We've been friends ever since. She is one of my heroes in life.
She is the person I call when I'm low. The person who makes me laugh till I snort. And the person who makes me realise that life is fun at times when I've forgotten that. She's very courageous.
A couple of years ago when Claire came to visit, we went to a late night book store to peruse the craft and art section. We found a book of patterns for... Wait for it... Knitted, woollen underwear. I kid you not. Knickers, bras, vests. All made up in sassy shades of double knitting wool.

Itchy? You betcha.
Within seconds, Claire and I were sitting on the floor in the aisle, crying laughing about dropping stitches in the gusset, speculating where we'd put the bobbles on an aran knitted bra, and what would happen to you if you ever fell into a pond wearing the full knitted underwear kit of bra, undercrackers and vest. (Drown. Due to getting pulled under by the weight of your water-logged woollies.)

I have no idea why, but we can't be in the same room together without being rude. Or saying gusset.

When Claire isn't being what looks like effortlessly amazing, (when actually I know she works so hard, running a school, bringing up a family, looking chic and gorgeous whilst carrying off being rude and irreverent with panache) she makes glass.
We caught up over the summer and she gave me a collection of her glass pieces to use in my jewellery designs.
















Aren't they beautiful?

I'm actually going to transform them into jewellery for Claire.
The glass that Claire makes is my Favourite Thing On A Friday this week, but my friendship with Claire is One Of My Favourite Things Ever.
If you want to join in with...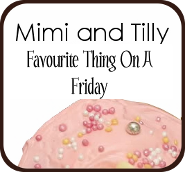 ... Add your details in the link tool below, linking up with your blog post about your Favourite Thing On A Friday, then link back to Mimi and Tilly. That's it. I'll be over in a jiffy to see your favourite thing this week.
Oh, and
Kitty
over at
Kitty's Vintage Kitsch
saw my
Opulent Opals
this week and thought they would go perfectly with a dress she has. She's going to be posting about that dress today, so pop by and take a peek!