My Favourite Thing On A Friday this week has got to be the very recent visit I made to see my Great Aunt Eira.
Here is Aunty Eira on her wedding day in 1933 when she was 22 and Great Uncle Wal was 26...
Great Uncle Walter was my grandfather's brother.
Here's my grandfather...
Great Aunt Eira is a wonderful person. Funny, feisty, independent, extremely active, and very loving. I don't get to see her very often as she lives way down at the other end of the country. But I had the good fortune to be able to see her this summer, which was fantastic as she recently had her 100th birthday!
Here is her telegram from the Queen.
Great Aunt Eira in the paper...
And with Steve and me...
It was wonderful to see her. We went for coffee in the British Legion, where Aunty Eira goes most days to meet her "gang", as she calls her group of friends. Then we went to the local pub for lunch, where she goes with her "gang" each day for a bite to eat. After that we had cakes and tea in her little flat. Aunty Eira lives above an antique shop. Her front door is actually inside the shop! The two lovely gentleman who run the shop check on Aunty Eira each day when they open the shop to make sure all is well.
It was a real pleasure to talk with Aunty Eira and I managed to write down most of what she told me about my grandad's brothers and sister, and what they got up to when they were young.
Aunty Eira played piano in a band from the age of 15 in 1926, for several years, before meeting and marrying my Uncle Wal. Aunty Eira's older brother was in the band too and played violin. Apparently, it was his band and so it was ok for Aunty Eira to play with them at such a young age! The band played at all the dance halls in and around Liverpool. Aunty Eira and Uncle Wal met while Aunty Eira was standing in a queue at the cinema. Someone pushed her and a "lovely, handsome" gentleman came to ask if she was ok. He then sat next to her in the cinema throughout the film, and asked her for a date afterwards. They got married 4 years later.
I had a lovely time with Aunty Eira. My visit with her is definitely my Favourite Thing For A Very Long Time.
If you want to join in with...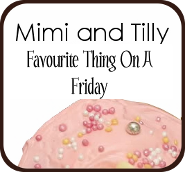 ... Then just add your Favourite Thing On A Friday blog post url into the link-up tool below, and link back to Mimi and Tilly in your blog post, and we'll be over to take a look at your favourite thing this week.