It's been an embarrassment of riches this week as far as finding my Favourite Thing On a Friday goes.
Laughing with Steve.
Warm weather.
But the honour has to go to the valiant sunflower that has battled being eaten by wildlife in it's pot in my garden.
Somewhere in the soil in that terracotta pot lies the fattest slug this side of flowerdom.
This is a miniature sunflower, only about 12 inches tall. But it has shown tremendous valour in the face of adversity.
Can you see the fella on the right coming in to land?
There are more sunflowers on the way.
And tumbling out of the front of the pot are oodles of Nemesia.
Flowery love.
My Favourite Thing On A Friday.
What's your Favourite Thing On A Friday?
If you fancy joining in, click on the link below to find out more...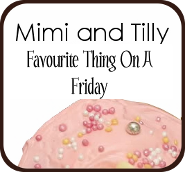 Then link up below and link back to Mimi and Tilly from your blog.
That way we can come on over to see your Favourite Thing On A Friday.