Thank you so much for your kind thoughts and words of support on my last post.
It made a big difference to know that you were rooting for me and sending love and hugs.
The world has stopped spinning and I'm chilling in my jimjams with a natty pair of stripey socks.
I've spent the past couple of days resting up.
However, although I'm feeling more rested, I'm still done for.
...Because...
I've only gone and joined...
Pinterest?
"What's that all about?" You say.
Well it's my Favourite Thing On a Friday this week.
As if I didn't already have enough ways of losing track of time on t'internet.
Last week I got a mysterious email message telling me that my lovely friend, Colette, from
Serendipity Handmade
had invited me to join a strange netherworld known as Pinterest. Then, in a real stroke of serendipity, my lovely friend Vanessa, from
Coco Rose Diaries
, wrote a post about how she'd found Pinterest and was totally addicited. I had to know more!
is an online network where you can surround yourself with beautiful images and post them to your personal virtual pinboards.
As far as I'm concerned this is food for the soul.
So many beautiful things to look at. So many new websites to discover.
I already collect images here at home, tearing them out of magazines, slipping them into wallets or pinning them to my pinboard.
Imagine having access to all the images you could ever look at, alongside more pinboards than you can waggle a stick at, with the ability to select and organise those inspirational images just as you might want them.
For a visual person like me, with what some people might have called Monica-esque tendencies, it doesn't get much better. (For Monica-esque tendencies read "A little harmless dollop of OCD".)
Every image that is pinned is linked back to it's original source. So by clicking on the image I can trace it back to it's website and find more gorgeous things.
Yowza.
You can find and look at my Pinterest pin boards here...
Here is a taste of some of the creative things I've pinned...
All positively pin-worthy.
I love a good pom pom. And is it just me or would you totally wear that apron out and about? As for that knitted coat... *Sigh*. Oh, and those ballet slippers. Things that make you go "ooooh".
Thank you Colette and Vanessa for giving me a nudge in the direction of Pinterest.
I also wanted to let you know that over the past few weeks I've been getting my knit on. I have photos to show you next time. As well as a set of silver stacking rings I made back in May, and some more etched copper earrings I racked up in April.

Cripes. It seems a rest is as good as a change when it comes to blog inspiration! (Apparently, lying in your winceyette nightie at 2pm in the afternoon, squeezing a cat while trying not to fall off the bed cos you're dizzy and a tad nauseaous, has big benefits when it comes to organizing your thoughts. Every cloud, eh?)
How has your week been?
What's your...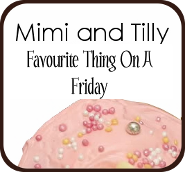 Click on the widget to find out more.
Then link up below and link back to Mimi and Tilly from your blog.
That way we can come on over to see your Favourite Thing On A Friday.