On August 23rd, next week, it will be my second blogiversay.
Two years ago on that date I sat down and wrote out my first blog post.
I had no idea back then that my blog would come to mean so much to me, and that I would make such wonderful new friends through blogging.
You have been completely amazing. You have made me laugh, given such wonderful support, been fantastic friends and have brought so much sparkle and glitter into my life.
Really.
To say a huge thank you I'd like to host a giveaway.
Here's the prize...
A brand spanking new copy of Cath Kidston's fantabulous book "Sew!"
A couple of my friends in the States have mentioned that they can't get Cath Kidston, so I thought, well, if that's the case, maybe we can bring St. Cath of the Kidston to you by way of a giveaway. So, this giveaway is open to UK followers and all overseas followers to give you a chance to get some Kidston love.
Sew! is chock full of gorgeous ideas of things to make, with complete instructions and full sized paper patterns. All you have to do is provide your own pretty material.
It is just lovely to sit and peruse over a pot of tea and a bikkie!
I have my own well-thumbed copy of this book and made this little treasure from it a while back, do you remember?
If you're already a follower, just leave a comment on this post and let me know you want to be included.
If you're not already a follower, follow Mimi and Tilly via Google Friend Connect and leave a comment letting me know you want to be included.
Follow Mimi and Tilly on Facebook for a further entry.
Follow Mimi and Tilly on Twitter for an extra entry.
Follow Mimi and Tilly on Pinterest for another entry.
Post the giveaway button in your blog sidebar for another entry.
Blog about this giveaway on your blog.
Leave a comment on this post, letting me know how many times you need to be entered, and your email address, and I'll pop your name into the hat. You can enter up to 6 times if you do all of those, but there's no need to, it's entirely up to you how many times you choose to enter. I'm just very grateful you read Mimi and Tilly and glad to have the chance to say a big fat "Thank you".
Big smiles,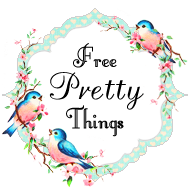 P.S. I'm linking up with Free Pretty Things today. There are lots of beautiful blogs to see, well worth a visit... Em x