When I was a little girl I had what I affectionately called my "itchy blanket". A noo-noo if you will. I carried it most places with me, and sat with it against my cheek. There was also a stage I went through, when I was about 3, of stuffing it down the legs of my pyjamas and prancing round, but the less said about that the better for all concerned, I think.
It's safe to say my woolly love has continued into adulthood. I absolutely adore woolly blankets, knitted scarves, sloppy knitted sweaters. I also can't walk away from an aran cardie. Or drive through Wales without screeching to a halt outside traditional Welsh gift shops and harassing the woven woollen blankets on display.
My home is a testament to this love of all things woolly. I have woven woolly blanket throws on my furniture, across the end of my bed (you can find a recent woolly purchase that made me insanely happy
HERE
), even my cats have got knitted cat beds.
And one of my absolute favourite things to do is knit.
By most people's standards, I'm totally pants at it.
I can only knit things that have straight edges. Scarves, envelope style cushion covers, gloves for people with square hands (that look uncannily like woolly flannels). And socks for people with square feet (these look pretty much like the gloves, only with the added bonus that you can't squeeze them into your shoes). And I can't follow a pattern. I am fortunate that I am able to finish a piece of knitting and still have the same number of stitches at the end as when I started. Although, frankly, it did take some time and some fairly fresh language to achieve this.
But I love it so much. The colours of the wool. The softness of the wool. The repetitive nature of making the stitches. It was a happy day for me when I decided to put my ability to knit squares to good use. By starting a granny blanket.
Several months ago I found a ball of vintage double knitting wool in the most beautiful plum colour, in a charity shop. Then another time, I found one in a pale lilac. I decided to knit them into squares, and to make a blanket knitted totally in odd balls of vintage wool found in charity shops. No new wool allowed. No acrylic yarns allowed. Only beautiful woolly wool in whatever colours came along. So, it has become a real adventure, finding wool for my blanket. What colour will I find? Will it be the right thickness? Will I find only one ball or will there be another kicking round the basket? Can I really include a square knitted from vomit coloured wool? No. Throw it back in the basket. I have got standards.
Over the past few months, whenever the mood has grabbed me, I've taken out my blanket knitting bag and knitted a square. This week, my Favourite Thing On A Friday is my soon to be knitted blanket. Although when I say soon, I mean as soon as I have knitted another 40 squares. We're not talking any time really soon here, you understand...
Ta dah...
I'm on the lookout for some different colours. What colours do you think would work well?
If you fancy linking up with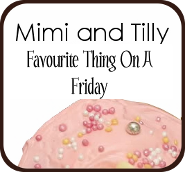 just add your blog post in the link-up tool below, and link up on your post back to Mimi and Tilly. I'll be over to see you faster than you can cast on.