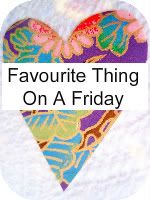 Hold onto your hats. I've only gone and done it again. I've had another bobby-dazzler of an idea.
A way for us to all share, in the same place, what makes our lives full of sparkle and glitter. A place to look at all the things that make our lives beautiful, full of light. A place to relax and peruse images of gorgeousness. Whilst perhaps having a mug of hot chocolate, covered in marshmallows, or a cheeky glass of wine.
I'd like to be able to say, "I've bought you a gallery! And filled it with comfy chairs. A hot chocolate machine. And gorgeous waiters to waft us with said marshmallows." But I can't.
I've done the next best thing though (I have a fondness for hyperbole)...
I've set up a
Mimi and Tilly Flickr group
!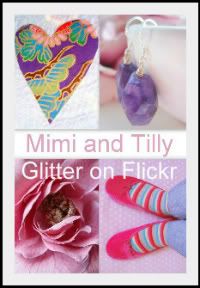 It's catchy isn't it?
I'd love for this to become a place where you shared photographs, videos and images of the things that make your life full of glitter. Whether that be things you've crafted, meals you've loved, recipes you've invented, a yoga class that makes your heart sing. Or even just that first cup of tea in the morning that tastes amazing.
Take a beautiful photograph of that fabulous cup of tea, the art-work you've just painted, the family-heirloom quilt you've finished lovingly sewing. Or you could video yourself singing to us all, or get the kids to film you dancing like you've never danced before. And upload it to our Mimi and Tilly group. So that we can all cheer you on. And see the glitter and sparkle that has lit up your day.
That way we can share the small gems and treasures that have brought you joy.
Then each week, if it's ok with you, absolutely with your permission, I'd like to feature some of that glitter and sparkle here on my blog. And show everyone how amazing you are. And tell everyone about your blog or website. So that we can all find you.
What do you think? Do you fancy it?
I'm in.
(Obviously, I should just point out that this is a family-friendly group. So I apologise if your joy and sparkle in life comes from anything not "family friendly". Ahem. But, for the sake of all members, and to prevent me from choking on my coffee each time I visit
Mimi and Tilly on Flickr
, please keep those glittery moments to yourself. So, no nudity, or inappropriate content please. Thank you.)
So my
Favourite Thing On a Friday
this week, is our new
Mimi and Tilly Flickr group
. Follow the
link
to join in and shine.
Here, too, are my moments of
bliss
this week:
Getting excited about my blog, and loving the ideas that have been fizzing in my head.
Adding the finishing touches to a blanket I have been knitting for over a year. I'm a slow knitter. Feeling really proud that although it's taken me a long time, I've nearly finished the first blanket I've ever made.
Lying in my bed, enjoying the warm duvet and fluffy pillows, while listening to the rain outside.
Waking up to find my enormous cat lying over my feet to keep warm.
Getting a text message from my significant other, Steve, which made me howl laughing.
Finding a vintage crochet pattern pushed through my letter box by my friend. Her mum had found it online and thought of me.
What has brought you
bliss
this week? I'm linking up with
Live Lane
to share mine. Feel free to link up with Liv too. And if you're joining in with Favourite Thing on a Friday, link up below. That way we can all find you and come and harass you lovingly with comments. The link up for Favourite Thing On a Friday is open right through until Sunday night.
P.S. If you need any help signing up to the Mimi and Tilly Flickr group, just let me know and I'll help you out.