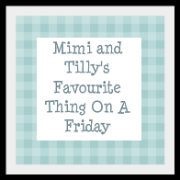 Oops. It's Friday. And I forgot to post about my favourite thing this week... I can't believe it. What in the David Dickinson is that all about? I'm sorry!
All I can say in my defense is... Nope. I got nothing. I've just popped on the computer now to catch up on my blog reading and realised, "Nooooooo, it's Friday! You haven't posted about your Favourite Thing On A Friday!"
So, my favourite thing this week is that I can remember my own name, my home address, and to put my undercrackers on the right way, as clearly, I'm having trouble elsewhere! I'll leave the link open until tomorrow if you'd like to link up and I'll be over to see your favourite things this week.
I'm having trouble getting my head around the irony of this considering
my post yesterday
,
which was actually called "Remember...". Seriously. You couldn't make this up.
I'm sorry.


P.S. Note to self "I am enough. But must do better!"