My Favourite thing On a Friday this week is the film, "The Illusionist" with Edward Norton. For three very good reasons. I'll explain. Firstly, I curled up under a blanket last night, to watch the film knowing I was going to be in for a goodun. Has Ed Norton ever been in a dodgy film? Well, OK, "Keeping the Faith" wasn't his best work, but it still had Anne Bancroft in it, so it can't have been all bad, right? (On a bit of a segue, am I the only person who thinks Ben Stiller has got little legs?)
Oh, go on then Ed, if you insist.
Secondly, Edward Norton has been one of my favourite actors since I saw him in "American History X" in 1999. A fantastically powerful story. "The Painted Veil" is also another of my favourites. I've actually been reduced to tears just hearing the music for the opening titles of that film. I know. It's just how I roll. And need I say more than simply "Fight Club"? No.
I love that Mr Norton can portray someone violent and powerful like his character in American History X, and then go on to convincingly play a vulnerable and bookish man as in The Painted Veil. Anyhoo, I'm not a film critic (thank the heavens, based on what I've written here so far...) but wanted to draw your attention to Mr Norton, because I have a special reason for loving him, not simply connected to his fantasmagorical acting skills, sweet good looks and gentle nature.
And here it is, the third and most fantastic reason... I don't know if you know this, but Edward Norton speaks Japanese, and after he graduated from Yale in 1991, he spent some time, in the early/mid 90's, working in Osaka in Japan. This was before he was famous for his acting skills.
If you've been reading my blog for a while, you'll know I spent 5 years working in Tokyo, Japan, (I know some of you are yawning, knock it off) around the very same time that Mr Norton was in Osaka. Don't get too excited by this tale. I didn't end up dating him. (Although I did end up meeting Duran Duran while I was living in Tokyo. But that's a whole other story. I digress.)
While Mr Norton was in Japan he decided to do a bit of extra work for a large language company known as Nova Intercultural Institute, which just so happened to be the very same language school I was working for. He made a teaching video and appeared in an ESL lesson book for Nova Intercultural Institute, which was used in the mid-nineties as a teaching aid by the English speaking teachers who worked there and their Japanese students. At that time, Nova was the biggest language school in Japan, and so this teaching aid was distributed throughout the country to a lot of schools there. I cannot stress to you enough that, although Japan is the other side of the world to America, and Ed probably thought not many folk were going to end up seeing this body of work if he ever hit it big, more people than you can waggle a stick at got to witness Ed in all his glory simply because Nova was a mahoooosive company in Japan.
Nova used to pay very well known British and American actors to appear in tv ads for the company, which shamelessly suggested that if you took lessons at Nova, you would probably end up dating your American/British teacher. I remember sitting down to eat my hot noodles one evening after work and turning on the tv to see Ewan McGregor pretending to be a Nova teacher, skipping across a bridge with a young, attractive Japanese student. He taught her to say "I love you" in English, and the ad finished with Ewan and the Japanese student sharing a "moment" together as the credits rolled for the company. I choked watching it. I could hear Ewan's manager, "Don't worry Ewan, no-one important in the film industry is going to see this, it's not showing outside Japan." There may only be a few hundred British people who ever saw it (alongside several million Japanese folk), but rest assured, it's burned into the back of my eyeballs.
Getting back to Edward Norton, The video and book he made for Nova were called "Only In America". Take a cheeky peek at some of the stills from the video that I managed to find online...
What's my motivation for this piece?
Erm, I'm pretty sure it's the money Ed.
And my personal favourite...
All photos courtesy of edwardnorton.org
I swear, he didn't shoot a porn video for Nova Intercultural Institute. It wasn't that kind of company. I worked there. Stop sniggering at the back.
So, my Favourite Thing(s) On A Friday this week, are threefold: "The Illusionist" starring Edward Norton. See it. It's a belter. Edward Norton himself, just because he's fab. And the fact that there is a whole other body of work that Edward made before American History X that involves him sporting some very unsavoury looking outfits.
What's you Favourite Thing On A Friday this week?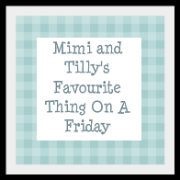 Link up below and let us know. And if you let people know you're linking up back here with Mimi and Tilly on your blog post, they can join in too.
I'm really looking forward to seeing what you've loved this week.