There seems to be a lot to celebrate on my blog lately. In August I had my second Blogiversay. Two years of blogging. Who knew I had so much to say? (Most of my friends and family actually. I do like to bang on chat...) And now I've hit two hundred (and one) followers on Blogger. Wow! Thank you!
I'm still a little surprised (but very glad) that people read my blog. I'm always hand-clappy happy when someone takes the time to leave a comment. So, a huge thank you for reading my blog and writing comments. I'm very genuinely delighted that you do. You bring glitter and sparkle into my day.
Now, you know of my love of jewels? 'Tis true. I love a good jewel. So, as a big thank you to my two hundred blog followers for the smiles you bring, I've made a wee jewel combination to give away.
I love organic jewellery, that's a little bit chunky, and a little bit "speaks for itself". I've put together a pair of earrings that I hope you're going to like. Made from chunky smokey topaz nuggets. A bit of pizzazz in time for Autumn...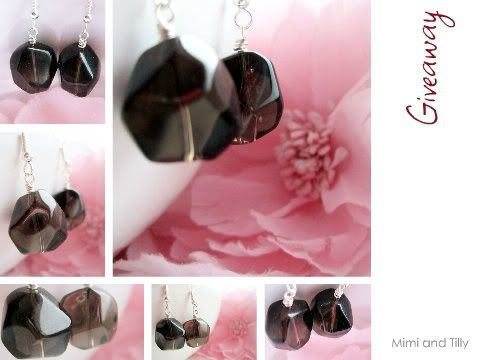 I've used sterling silver wire to wire wrap the smokey topaz nuggets to the silver-plated ear hooks. I've used a larger hook to balance the size of the nuggets. The hooks are silver-plated to eliminate the issue of tarnishing. I love these earrings (even if I do say so myself) as the smokey topaz blends with most colours. Large enough to make a statement and simple enough to be totally stylish. I'll be making a pair of these beauties for myself...
The earrings have a drop of 4.3cms from the top of the ear hook to the base of the nugget. The nuggets are 1.8cms long. Yowza! That's a lot of jewel!
All you have to do to enter is follow Mimi and Tilly on
Blogger
,
Twitter
,
Facebook
, or
Pinterest
and let me know which you're doing in a comment below. If you follow all four, let me know and your name goes into the hat four times. Following three, your name goes in three times. If you're following two, then twice, etc. If you blog about my giveaway, you get another entry. If you post my giveaway button in your sidebar, you get another entry. It's possible to have six entries in total, but you don't need to. It's entirely up to you how many times you enter. Just let me know how many entries you need in your comment and I'll put you in the hat.
This giveaway will run until Monday 24th October, when I'll draw the winner. I'm happy to post internationally, so everyone is eligible. Your earrings will come wrapped in tissue paper and gift-boxed. Kind of like an early christmas present!
Thank you for your friendship and support, you are fab! And good luck!
P.S. I have two gorgeous guest bloggers coming up on Mimi and Tilly soon. They have volunteered to
share their sparkle
! I can't wait to show you what they've chosen from their jewellery boxes!