I've only gone and won a blog giveaway!
Hurrah!
A parcel arrived for me in the post (I get so excited getting parcels in the post), and I found these fabulous things inside...
The current edition of "Sew" magazine, containg a gorgeous Simplicity paper pattern, and Sue had made a really pretty cupcake for me.
Thank you Sue for a beautiful parcel.
You made my day.
I've never read "Sew" before and can't understand why as I'm a hand-sewing fanatic.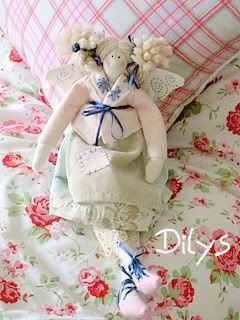 I made Dilys back in 2010. She was my first foray into doll-making. Click on her picture to read more!

There were lots of beautiful things to make in "Sew", including this...
This...
And these...
I reckon a polka dot bow on a hair band is just the ticket to get me through the Autumn months with a spring in my step and a song in my heart.
Not that I need much of an excuse to sport a dandy bow. Or burst into song.
Thank you Sue, once again, for making my day special.