The sun's been out. I've been chillaxing. And day-dreaming. And once again I've had an idea.
There's no holding me back.
You know how much I love jewellery? And how much I love making jewellery? Talking about jewellery? And generally looking at anything shiny and sparkly?

I am fascinated by jewellery, and jewellery designs. But I'm also fascinated with the emotions behind jewellery.

I don't know any woman who doesn't have a jewellery box. Or own at least one piece of jewellery that is somehow and for some very important reason, very close to her heart.

I also know men who treasure and collect watches, and have never taken off their wedding ring.

We all seem to have an attachment in some way to a piece of jewellery.

I would love to know what treasures and sparkly pieces of jewellery you hold dear.
I'd love to know more about the pieces of jewellery that make you feel fabulous when you wear them. That you can't leave the house without. The pieces that you've had for years and that you just adore.
So, I'd like to invite you to do a guest blog post here on Mimi and Tilly, if you'd like to.
I've decided to call it...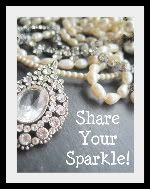 Once a month, or so, I'd like to have a guest blogger, who shares one or two pieces of their favourite jewellery. Explaining why it's so special. Your sparkly treasure doesn't need to be valuable in a monetary sense. You can share costume jewellery, silver jewellery, vintage jewellery, or an heirloom. You can share your rings, earrings, necklaces. If you have a piece of glitter that you love, that you couldn't part with, Mimi and Tilly would love to know about it!
All you'd have to do to take part, is photograph your chosen piece/pieces, so that I have a good ole selection of jewellery shots to share here, and then explain why the pieces are so special to you. Tell us the story of your piece of jewellery. I'll then post your "Share Your Sparkle!" blog post here on Mimi and Tilly, with links back to your blog.
If you're interested in taking the lid off your jewellery box and letting us take a peek at one or two chosen pieces inside, let me know in your comment at the end of this post or contact me by email.
Ooh, ooh, I'm so excited!
A look at people's glittery treasures.
Heaven.